What is Terminus TTF?
Terminus TTF is a TrueType version of the great Terminus Font, a fixed-width bitmap font optimized for long work with computers.
How does it look?
This is how Terminus TTF looks like in NetBeans using mostly default settings: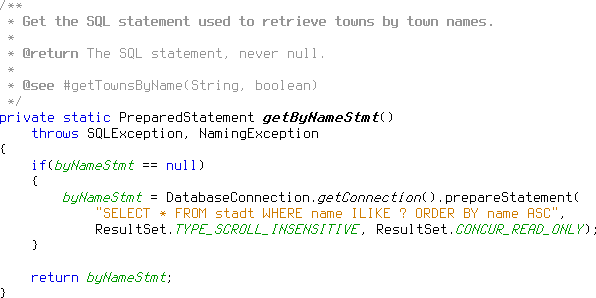 Here is how some possibly ambiguous characters look like when using Terminus TTF (from left to right: one, lowercase L, uppercase i, pipe, uppercase o, zero):


Download
You can either download a ZIP file containing the latest regular/medium, bold and italic versions of Terminus TTF or you can browse older versions.
Donate
If you feel that you want to buy me a beer (or something) because you really appreciate Terminus TTF, you can send some Bitcoins along my way (you need to have a Bitcoin client installed for the following link/QR code to work).
If the above link/QR code does not work for you, you can manually send Bitcoins to the following Bitcoin address:
14Yip4PvrjtiXjKGV6AFNyca2BNM7FAofd
Staying up-to-date / Changelog
I post release announcements on my blog; that should make it easier to keep up with new releases.
Generating your own TTF files using mkttf
The scripts I wrote in order to generate my TTF files from the original Terminus Font BDF source files may be useful for you as well — maybe you want to apply patches to Terminus Font before turning it into a TrueType font (different quotation marks, anyone?) or you may be interested in automatically turning some other bitmap font into a TrueType font...
You can get the latest version of mkttf from my Git repository on GitHub; alternatively, you can download a zip file from the same page. Make sure to read the README file! You might also want to read an older blogpost of mine (not completely accurate anymore — I switched from AutoTrace to Potrace some time ago).
Patching Terminus Font and using mkttf is quite easy if you know how to do it. However, explaining how to apply patches using the patch program is out of scope for this document. After you have patched Terminus Font, generating TrueType files is as easy as running the mkttf.sh script, provided that you have all the necessary tools installed — see the README file from the mkttf distribution for details.
The scripts are fairly generic; in order to use them for other fonts than Terminus Font, you should only have to edit the mkttf.sh file.
Licenses The boring stuff
Terminus TTF
The license of Terminus TTF follows that of Terminus Font.
mkttf and others
mkttf is licensed under the BSD license. Other files you can get here may be published under other licenses.